Series Scholars Include:
Professor James West, Penn State University
Professor Maureen Corrigan, Georgetown University
Professor Martina Mastandrea, Hemingway Museum, Bassano del Grappa, Italy
Professor Kirk Curnutt, Troy University
Professor Walter Raubicheck, Pace University
Professor Ross Tangedal, University of Wisconsin-Stevens Point
Professor Linda Patterson Miller, Penn State Abington
Professor Erin Templeton, Converse College
Professor Alaina Doten, Executive Director, Scott and Zelda Fitzgerald Museum, Montgomery
Professor Anne Margaret Daniel, Bard College
Professor Bryant Mangum, Virginia Commonwealth University
Professor Jennifer Nolan, North Carolina State University
Professor Kendall Taylor
Blake Hazard, great-granddaughter of Scott and Zelda
Meryl Cates, author, dancer
Michael Cotey, playwright and director
Denile Ault, Alaska bookclub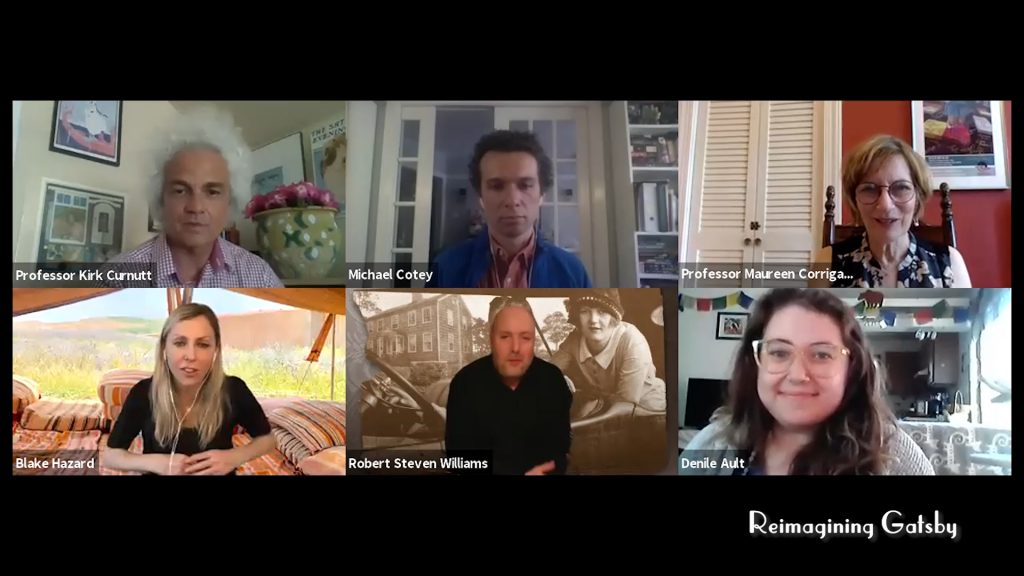 THE FITZGERALD PANDEMIC WEBINAR SERIES
A FUNDRAISER FOR FEEDING AMERICA
In 2020 Against the Grain Productions produced six installments of The Fitzgerald Pandemic Webinar Series, attended by several thousand Fitzgerald lovers, the series featured 17 world-renowned scholars, raising nearly $8,000 for Feeding America in the name of Scott and Zelda Fitzgerald.
Hosted by the director of Gatsby in Connecticut's director, Robert Steven Williams. Moderated by Professor Kirk Curnutt, president of the F. Scott Fitzgerald Society. These video replays are available for educational purposes free of charge. Many high schools and universities are already using them as a complement to their current on-line teaching environment.
This Side of the Paradise https://vimeo.com/414282524
The Beautiful and Damnedhttps://vimeo.com/426773375
Reimagining Gatsby https://vimeo.com/419374182
Tender is the Night https://vimeo.com/462029771
Zelda Fitzgerald: Dancer, Painter, Writer. https://vimeo.com/414275306
The Short Stories, Volume 1https://vimeo.com/492853989